There have been instances where payday loan companies have sued borrowers who have gone into default to the tune of thousands of dollars. Usually, the lawsuits are not just for the debt borrowed, but include extra charges too, such as default penalties and legal fees. It is often nearly impossible for a borrower already in a tight spot financially to work his way through the debt and lawsuit. In many states, lenders are allowed to charge borrowers the full cost of suing them over, and above the interest and principal owed. Most borrowers cannot even afford the legal representation costs.
The prospect of being sued and arrested for a delinquent loan can be quite stressful for many California residents seeking for payday loan services. However, it is worth pointing out that you cannot be arrested for failing to pay back your debt to a payday loan California lender, although a judge may issue a warrant if you fail to appear in court. If a lender threatens you with arrest, you can report the threat to the state attorney general, or simply submit a complaint with the Consumer Finance Protection Bureau through their website. While the law allows payday loan California companies to sue to recoup owed funds, there are regulations in place to prevent lenders from charging exorbitant interests.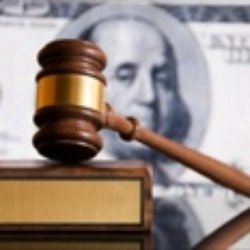 In some states payday loans are quite costly, often with annual interest rates of between 30 and 400 percent. In such cases, if the suit against a borrower ends in judgment, the payment can be a nightmare. Fortunately, under the California law, the maximum one can borrow with a California cash advance is capped at $300. While the highest a California payday loan lender can charge as interest is 15% of the principal, or an amount not exceeding $45. This ensures the borrower does not end up with large loans accruing high interests.
You have several options when faced with a lawsuit from a lender of online loans California. It's best to first understand your position with regard to the law before you hit the panic button. As always, it's best to first check the State of California Attorney General's Website. This site will give updated info that details your protections at a citizen of the state. The law protects you in so many ways. For instance, by California law, the payday lender can only charge you for one bounced check only, and for an amount not exceeding $15. The lender cannot charge you additional fees if you request for additional time. However, take note that the California payday loan lender is not legally required to provide you with an extension. The law further states that a payday lender should not give you a new loan, either while the existing loan has not been paid or to pay off a previous loan.
Take time to review the contract and issues such as full disclosure. The contract for the payday loan in California should have been provided in a language you used to negotiate in with the lender. If the contract language is different, you can state the lender didn't provide full disclosure of the loan terms. Remember, it is against the law for a payday lender to threaten you with prosecution for having insufficient funds to pay the loan. You still have other legal protections as a borrower when faced with a loan repayment default suit. You can always contact the Department of Business Oversight for help with any creditor that's causing trouble above what the law allows.

Late on a California Payday Loan? Try to work it out first with your Lender!
The most important thing is to avoid a lawsuit from your lender in the first place. The best way to avoid being sued is obviously preventing the default. However, there are times when such problems cannot be avoided. If you should run into credit problems, call your creditors and request them to waive late fees. You can even request for a reduction of the interest rate, or find a way to work on another repayment plan. You may even consider seeking the services of a financial counselor who will review your situation and provide the best way forward with your California payday loan or cash advance.